VELJKO MARIC, MD, PhD
January 25, 1953 Foca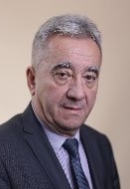 He finished elementary and high school in Foca. He graduated from the Faculty of Medicine in Sarajevo in 1971, and completed his postgraduate studies at the same faculty in 1986. He specialized in General Surgery on 6 January, 1986 at the Clinic for General and Glandular Surgery of the Medical University Center Sarajevo.
He received his Master's degree in medical science on 6 February, 1992, at the Faculty of Medicine Sarajevo, defending the thesis Secondary Appendicitis Acuta within the Ileocaecal Peritonitis. He defended his doctoral dissertation Evaluation of the Results and Organization of Definitive Treatment of War Injuries in Foca from 1992 to 1995 at the Faculty of Medicine Belgrade in 1996.
Veljko Maric, PhD has been working in the regional hospital Foca since 1982. After it had been transformed into Clinical center in 1993, he was appointed as its director. Clinical Centre Foca is a University Hospital today. In 2005 he worked as Dean at the Faculty of Medicine Foca. He was appointed as Assistant Professor, Associate Professor and Full Professor in Surgery in 1997, 2003, and 2009 respectively.